Providing increased awareness about Fabry disease is very important!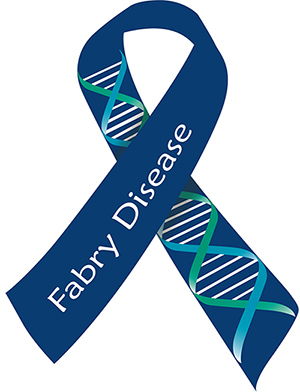 The NFDF has awareness materials as described below.
As a rare disease, most people have not heard of Fabry disease and among about 7,000 other known rare disorders, most physicians do not know much about our disease.
We suspect that many people live their entire lives without knowing the underlying cause of their many Fabry disease symptoms. Many others are diagnosed very late after irreversible organ damage occurs. Increased awareness can change these tragic unnecessary circumstances to give people a chance at improved lives.
Everything we can do to increase awareness of our disease is helpful to find those who remain undiagnosed and to improve the understanding and management of Fabry disease. We wear wristbands, ribbons, pins and T-shirts bearing our logo, symbols, and slogans to prompt conversations about our disease to improve awareness and understanding. We intend to provide awareness pins also.
In 2016, the Fabry community in the United States, Canada, and other participating countries adopted a dark blue as our official color in the spirit of a denim blue color used by other rare disease organizations. The color on the PMS color chart is PMS 541.
With the official color, we also adopted the official Fabry community ribbon design above. There are two versions of the ribbon. One version has gradient (fading) colors in the helix and one has solid colors in the helix. Producing some awareness materials with the gradient colors can be more expensive so we produced a second option. The art is available for anyone to use. The NFDF produces ribbons to send in our various mailings and can assist others in obtaining ribbons for special events.
The font and the colors in the helix may vary somewhat depending on the organization and specific uses but the basic identity should remain the same for participating countries and organizations. The font in the original ribbon is Maiandra GD.
The design for the Fabry community ribbon is community property to be used by anyone who wants to produce Fabry awareness materials. The art vector files used to produce awareness materials are provided in the two Ribbon links below. They are Abobe Illustrator files so everyone may not be able to open them but you can save them to your desktop and share them with whoever is producing awareness materials for you. Please select the following link to read about how the offical Fabry Disease Awareness Ribbon was developed "The story of the Fabry disease awareness ribbon".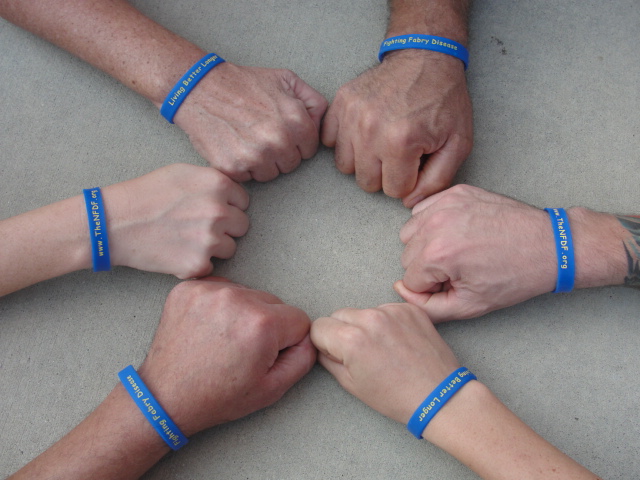 Our awareness wristbands bear the slogan "Fighting Fabry Disease ... Living Better Longer" on the outside of the wristband and National Fabry Disease Foundation contact information on the inside.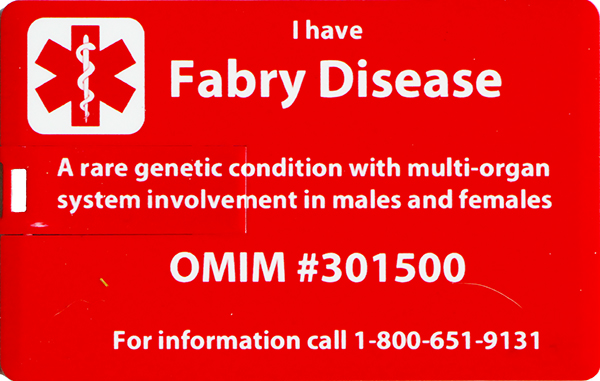 We provide credit card style USB drive alert cards as a dual purpose awareness product and USB storage drive to store information related to Fabry disease and medical information in a easily recognized convenient place.
Keep this card in your wallet or purse along with your My Health Handbook and Emergency Information booklet that we provide to be prepared in case of an emergency.
We provide credit card style USB drive alert cards as a dual purpose awareness product and a USB storage drive to keep information about Fabry disease and medical records in one convenient, easily recognized place.

The National Fabry Disease Foundation's hallmark T-shirt makes a statement that we will not let our disease define who we are as individuals. T-shirts are available in several colors and sizes.
In addition to these material, Fabry disease educational materials are located in the Featured Programs and Featured Resources section of the website home page.
Please contact This email address is being protected from spambots. You need JavaScript enabled to view it. for more information.
Please do your part to increase Fabry disease awareness for the benefit of everyone with Fabry disease!