The Coast-to-Coast Fabrys Walkabout ...
Courtnay Midkiff's incredible journey to support people with Fabry disease.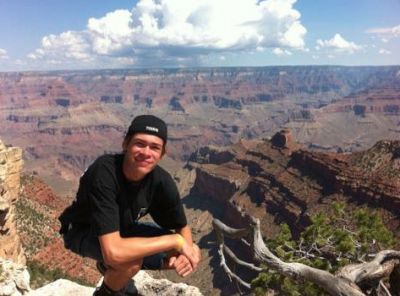 On March 1, 2013, 23 year old Courtnay Midkiff started his journey walking from the east coast in Virginia Beach, Virginia to the West Coast. This is an incredible challenge for a person in the best health and physical condition. Courtnay is taking on his challenge with the burden of Fabry disease.
Why? To increase disease awareness and to raise funds to support programs that help people with our rare, progressive, destructive and often life-threatening disease. What an amazing person! What an amazing contribution!
Please Follow and Support Courtnay!
Follow Courtnay at http://fabryswalkabout.tumblr.com/ where you can read his posts and see photos of his incredible journey and on Twitter at for quick updates. See the tabs for Donations and Support, and his Twitter tag and other ways to track his progress..
If you are a face book user, please watch and "Like" Courtnay's face book page also at https://www.facebook.com/pages/The-Fabrys-Walkabout/139339526238705
Please watch Courtnay's route and let us know if he is in your area and can provide a meal and/or a bed to have some hot food and to get out of the weather from time to time.
Thank you to Courtnay and thank you all for your support!
Sincerely, Jerry Walter