Fabry Disease Eye Symptoms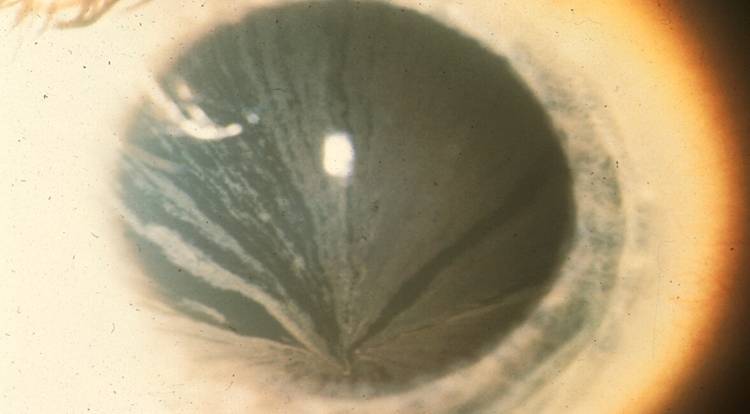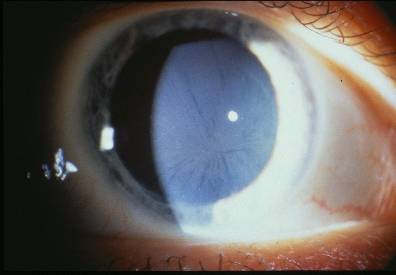 Corneal opacity photos courtesy of Nasi Samiy, MD, Retina Institute of the Carolinas.

Please also see the NFDF's "The Eyes Have It Campaign" below.

A common sign of Fabry disease and one that often leads to an earlier diagnosis than other Fabry disease symptoms are pale gray, brownish or yellowish streaks in the cornea of the eye (commonly referred to as corneal opacities and technically referred to as corneal verticillata). In some individuals the pattern is an overall hazy pattern rather than streaks or it begins with a haze and develops into streaks.
This pattern has been reported to be present in over 90% of Fabry disease patients and is evident in a mild form in the majority of children with Fabry disease. The streaked pattern is most prominent in females who carry the Fabry gene.

The corneal haze or streaks very rarely, if ever, cause impaired vision. Individuals with Fabry disease are also susceptible to Fabry cataracts (opacities on the lens) but this occurrence is more rare than corneal opacities. These cataracts also do not usually impair vision or require removal. Other common eye findings include: small blood-filled sacs in the outer layer of the eye (conjunctival saccular aneurysms), irregular and tortured (twisted and crooked) retinal veins and blood vessels.
Corneal opacities can be seen by a routine slit lamp examination by an optometrist or ophthalmologist. If corneal opacities are observed, an individual should contact the NFDF for assistance with getting evaluated for Fabry disease.
Also when individuals, especially females with near normal levels of enzyme exhibit other symptoms of Fabry disease, a slit lamp examination may be done to help determine the likelihood of a positive Fabry disease diagnosis before proceeding with expensive DNA testing.
Since early diagnosis means early treatment, optometrists and ophthalmologists can play a critical role in helping individuals with Fabry disease through recognition of corneal opacities. Through early diagnosis, children may have an opportunity to avoid most of the symptoms that adversely affect their quality of life and may later avoid the life-threatening affects of this disease.

The medication Amiodarone (Cordarone) can cause an eye finding similar to Fabry disease corneal whorling which may be mistaken for Fabry disease.

Note: The primary source of this information is the September, 2006 Genetics in Medicine journal article entitled "Fabry disease: Guidelines for the evaluation and management of multi-organ system involvement"


The NFDF's "The Eyes Have It Campaign "for the Fabry community, by the Fabry community".

Become a volunteer!

If you have Fabry disease you may have corneal whorling, and you can help with critical Fabry disease education efforts.

The NFDF has begun a national campaign to provide Ophthalmologists and Optometrists an opportunity to see cornel whorling and Fabry cataracts in person. We believe that seeing the Fabry disease eye symptom in person will help eye doctors recognize Fabry disease in others.

Fabry disease remains unrecognized and undiagnosed in thousands of people in the U.S. and around the world. These people should have an opportunity to be recognized, diagnosed and treated in time to avoid a diminished quality of life and a shortened life-span.

Please help by becoming an NFDF volunteer to exhibit your corneal whorls in an educational setting at your local eye clinics. First, print the clinic visit checklist from the link in the documents section below to make your participation as easy and beneficial as possible. Then, print the letter located below and take it to your local eye doctors/clinics. Offer an imediate viewing or schedule an event with the clinic(s) and email This email address is being protected from spambots. You need JavaScript enabled to view it. to notify us of your participation.

You have a great opportunity along with other volunteers around the country to help other people get recognized and fight against their Fabry disease. Your selfless service will provide immeasurable benefit to the families you help to get diagnosed.

Thank you for your support. Please contact me for additional information.

Sincerely, Jerry Walter